In short, this patent provides for manufacture of supercritical fluid, most likely using clean water, heated to pressure controlled, supercritical temperatures geothermally by hot, dry rock, converted to steam to be used for production of electricity.  Should H2O be used, the patented sealed system with its Exchange Chamber(s) and Convective Non-Partitioned Flow Heating Cylinders yields zero polluting emissions and is not geographically limited; but can be employed across vast areas of land on every continent.
For convenience, below is a Google hyperlink to an electronic copy of our Z Group Energy United States Patent as Filed with USTPO on May 27, 2009 and issued February 26, 2013 entitled:  GEOTHERMAL ELECTRICITY PRODUCTION METHODS AND GEOTHERMAL ENERGY COLLECTION SYSTEMS:  US PATENT #8,381,523 B2.
*****
http://www.google.com/patents/US8381523
*****
First page of patent below: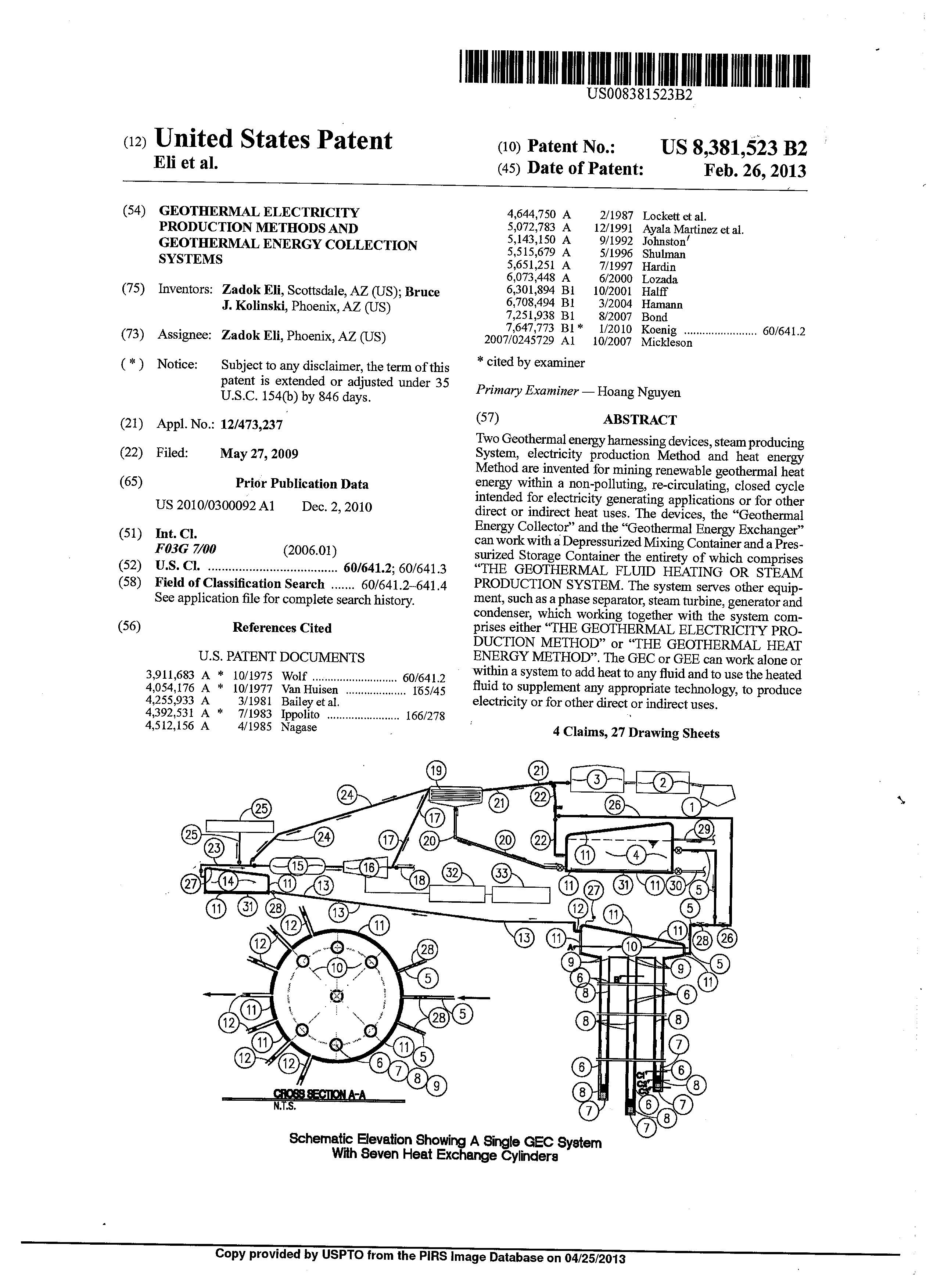 *****
See Abstract and four Claims below (in easier to read format):
United States Patent 8,381,523
Eli , et al. February 26, 2013
Abstract
Two Geothermal energy harnessing devices, steam producing System, electricity production Method and heat energy Method are invented for mining renewable geothermal heat energy within a non-polluting, re-circulating, closed cycle intended for electricity generating applications or for other direct or indirect heat uses. The devices, the "Geothermal Energy Collector" and the "Geothermal Energy Exchanger" can work with a Depressurized Mixing Container and a Pressurized Storage Container the entirety of which comprises "THE GEOTHERMAL FLUID HEATING OR STEAM PRODUCTION SYSTEM. The system serves other equipment, such as a phase separator, steam turbine, generator and condenser, which working together with the system comprises either "THE GEOTHERMAL ELECTRICITY PRODUCTION METHOD" or "THE GEOTHERMAL HEAT ENERGY METHOD". The GEC or GEE can work alone or within a system to add heat to any fluid and to use the heated fluid to supplement any appropriate technology, to produce electricity or for other direct or indirect uses.
*****
Inventors: Zadok Eli (Scottsdale, AZ); Bruce J. Kolinski (Phoenix, AZ)
Applicant: Name City State Country Type
Eli; Zadok
Kolinski; Bruce J.
Scottsdale
Phoenix
AZ
AZ
US
US
Assignee: Eli; Zadok (Phoenix, AZ)
Appl. No.: 12/473,237
Filed: May 27, 2009
Current U.S. Class: 60/641.2 ; 60/641.3
Current International Class: F03G 7/00 (20060101)
Field of Search: 60/641.2-641.4
References Cited [Referenced By]
U.S. Patent Documents:
United States Patent: 8381523 http://patft.uspto.gov/netacgi/nph-Parser?Sect1=PTO1&Sect2=HITOFF…
1 of 25 4/25/2013 9:33 AM
3911683 October 1975 Wolf
4054176 October 1977 Van Huisen
4255933 March 1981 Bailey et al.
4392531 July 1983 Ippolito
4512156 April 1985 Nagase
4644750 February 1987 Lockett et al.
5072783 December 1991 Ayala Martinez et al.
5143150 September 1992 Johnston
5515679 May 1996 Shulman
5651251 July 1997 Hardin
6073448 June 2000 Lozada
6301894 October 2001 Halff
6708494 March 2004 Hamann
7251938 August 2007 Bond
7647773 January 2010 Koenig
2007/0245729 October 2007 Mickleson
Primary Examiner: Nguyen; Hoang
Claims
We claim:
1. A Device named the Geothermal Energy Collector (GEC), which connects to multiple geothermal heat sources via its insulated or non-insulated exchange chamber, said exchange chamber to be constructed of materials suitable for the intended use, able to withstand high temperatures and pressures, and its insulated or non-insulated heat exchange cylinders to be constructed of materials suitable for the intended use, able to withstand high temperatures and pressures, with said exchange chamber being installed above ground, partially below ground or completely below ground, receiving pumped or non-pumped fluid; said exchange chamber consists of only one inlet pipe near the bottom for receiving incoming fluid said incoming fluid introduced to the open tops of the heat exchange cylinders near the bottom of the exchange chamber, said fluid flowing downward into the cylinders, until conductively heated and convectively rising within the heat exchange cylinders, with such heated fluid, vapor or steam received back into the exchange chamber where it is thermally mixed and discharged; said exchange chamber mounted at the top of said multiple heat exchange cylinders, each of which is conductively heating and convectively discharging said fluid, vapor or steam, with each of the multiple cylinders installed into the earth to a depth sufficient to conductively transfer the earth's heat to the internal fluid; with each cylinder able to contain at its sealed bottom a heating core, perforated, partially perforated or non-perforated, made of highly conductive material, the whole of which conductively transfers heat energy from within the earth to said internal fluid, and then convectively rising to the earth's surface; where such energy laden fluid, vapor or steam is collected in the exchange chamber for thermal mixing and discharge, used to directly or indirectly add heat energy to any process, or to drive steam turbines for the generation of electricity.
2. A System of Geothermal Energy Collectors as claimed in claim 1 comprised of devices, containers and appurtenances, referred to as the Geothermal Fluid Heating or Steam Production System, which includes, one or more Depressurized Mixing Containers (DMC) and one or more Pressurized Storage Containers (PSC), such system receiving and discharging fluid, vapor or steam and within which, Geothermal Energy Collectors are provided with un-heated, pre-heated, thermally mixed and/or recirculated fluid, which is heated within said Geothermal Energy Collectors and which system receives, stores and adjusts said fluid, heated fluid, vapor or steam and delivers said heated fluid, vapor or steam to directly or indirectly add heat to any process, or supplying heated fluid, vapor or steam to turbines to generate electricity.
3. A Geothermal Electricity Production Method comprised of Geothermal Energy Collectors as claimed in claim 1 using Geothermal Energy Collectors to generate electricity by driving steam turbines, then condenses used waste steam and returns said condensate along with added make-up fluid, for heating and/or re-heating, within the Geothermal Energy Collectors, then reusing and reheating the already reheated fluid along with any make-up fluid in a continuous cycle.
4. A Geothermal Heat Energy Method comprising Geothermal Energy Collectors as claimed in claim 1, using condensate to produce heated fluid, vapor or steam and using said fluid, vapor or steam, to add heat energy, retrofit or augment a power plant boiler.
Save
Save
Save
Save
Save
Save
Save
Save
Save
Save
Save
Save